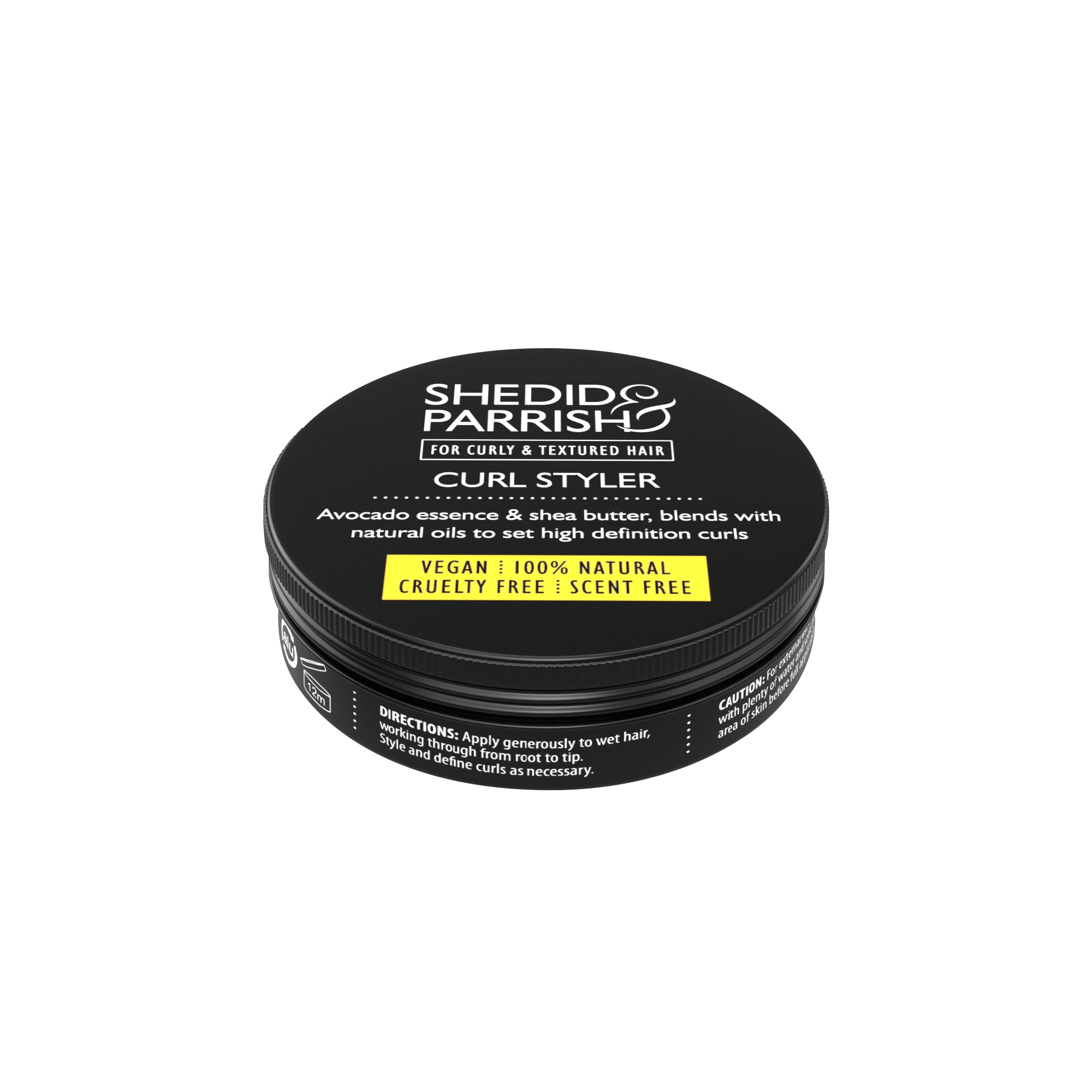 Curl Styler
---
Our Curl Styler is an oil enriched product to help style and protect curl & textured hair. Packed with avocado, jojoba and coconut oil and shea butter, it is a perfect blend to nourish the hair inside and out. It glides easily over the hair and penetrates well, style the hair as necessary and scrunch into the ends to deliver a natural soft hold, that allows the hair continued natural movement. With the addition of tara fruit & sunflower extract our Curl Styler will also protect the hair against damaging effects of pollution, UV stress and heat damage.
Aqua, Glycerin, Shea Butter Ethyl Esters, Cocos Nucifera (Coconut) Oil, Cetyl Alcohol, Hydroxypropyltrimonium Corn Starch, Simmondsia Chinensis (Jojoba) Seed Oil, Cetearyl Alcohol, Persea Gratissima (Avocado) Oil, Phenoxyethanol, Caprylyl Glycol, Stearalkonium Chloride, Hydroxyethylcellulose, Caesalpinia Spinosa Fruit Pod Extract/ Caesalpinia Spinosa Fruit Extract, Propylene Glycol, Helianthus Annuus (Sunflower) Sprout Extract, PEG-20 Stearate, Sodium Benzoate
Apply generously to wet hair, working through from root to tip. Style and define curls as necessary.

CAUTION: For external use only. Avoid contact with eyes. In case of contact with eyes, rinse immediately with plenty of water and seek medical advice. If irritation or rash appears discontinue use. Test on small area of skin before full application. Store in a cool, dry place.
Click here to read our full shipping information for UK and international deliveries.
 30 Day Guarantee

Your satisfaction is of great value to us, so we offer a 30 day guarantee returns policy on all products. If you are not completely satisfied with your goods, simply email us at info@shedidandparrish.co.uk to initiate the return process.

Guarantee valid 30 days from purchase, may only be used once per product and once per order. 

This guarantee is valid for consumers purchasing on www.shedidandparrish.co.uk and is not valid for business purchasers.

The costs associated with the return are the responsibility of the customer. We will not be able to refund postage fees. You can ship with the carrier of your choice and we'd advise keeping the tracking or proof of postage until we receive the items.

 

Defects, Incomplete Orders or Incorrect Delivery
If there is something wrong with the order you have received, please email at info@shedidandparrish.co.uk with your order details, a description of the issue and a photograph of your delivery.

If you are returning goods owing to defects, incomplete orders or incorrect delivery, we will refund you both the price you paid for the goods (inclusive of the initial delivery charge) and the recorded delivery costs for the return package. Please obtain a receipt from your Post Office to enable us to process the refund for your return postage costs.

 

 

 
Curl Styler
Sale price

$41.00
Regular price
Choose options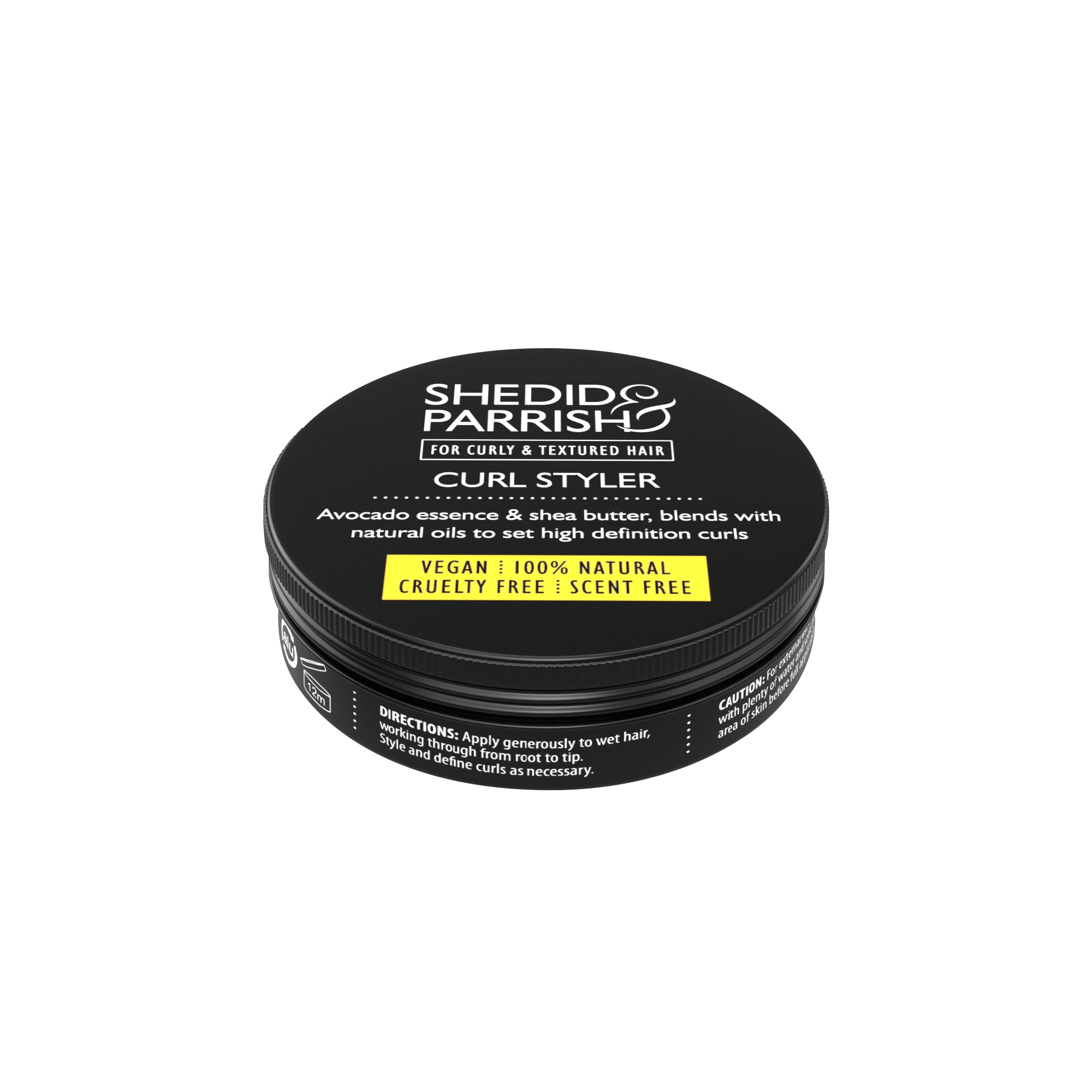 Fabulous curl styler
My hair feels so much better since I started using Sheddid and Parish !I am obsessed with the Afro butter and curl styler is also going to stay part of my thick curly hair routine …May I just say that your products also work fabulously well on straight hair ….I only "embrace my mad curls on holiday " blow drying into straighter style the rest of the time …Adding Afro butter ,curl styler or your serum mid week to the ends helps keep my mane souple and frizz free ! 😀Brilliant product I got my daughter hooked on too….
Curl Styler is amazing!
I bought this from the pop up shop in Covent Garden last year, and it is by far the best hair product I've ever used. I've tried a lot of different ones over the years and never found one that quite does the job. This one does and I love it! It's not too heavy or greasy and creates defined curls that last. I use it every day and a little seems to go a long way, I've just finished the pot I bought in December and it's now May so well worth the price :)
Curl Styler
This product is lovely. I have tried many many products for curly hair and this has to be the best so far! Light weight fr my curls. Feels super soft on application. Keeps my curls bouncy and moisturised all day!
A curl styler that loves your hair
This is the 3rd time I have purchased the Curl Styler, and I will be buying it again. As a swimmer, I have to think about how to protect my hair from damage, and how to revive and nourish it after exposing it to chlorine, and more frequent washing as a result of this. This Curl Styler does the trick. My hair is good to go straight after washing, conditioning,and using this Curl Styler.It doesn't take 2 or 3 days to ' come into it's own' as with other products. I would highly recommend it.
Favourite curly brand
Works a treat for moisturising curls and creating great definition. On wash days I apply to soaking wet hair using the praying hands method. In between washes this works great for refreshing curls when needed. I dampen my hair with a spray bottle, mix a little of this with water in my hands and apply to areas where curl definition is needed