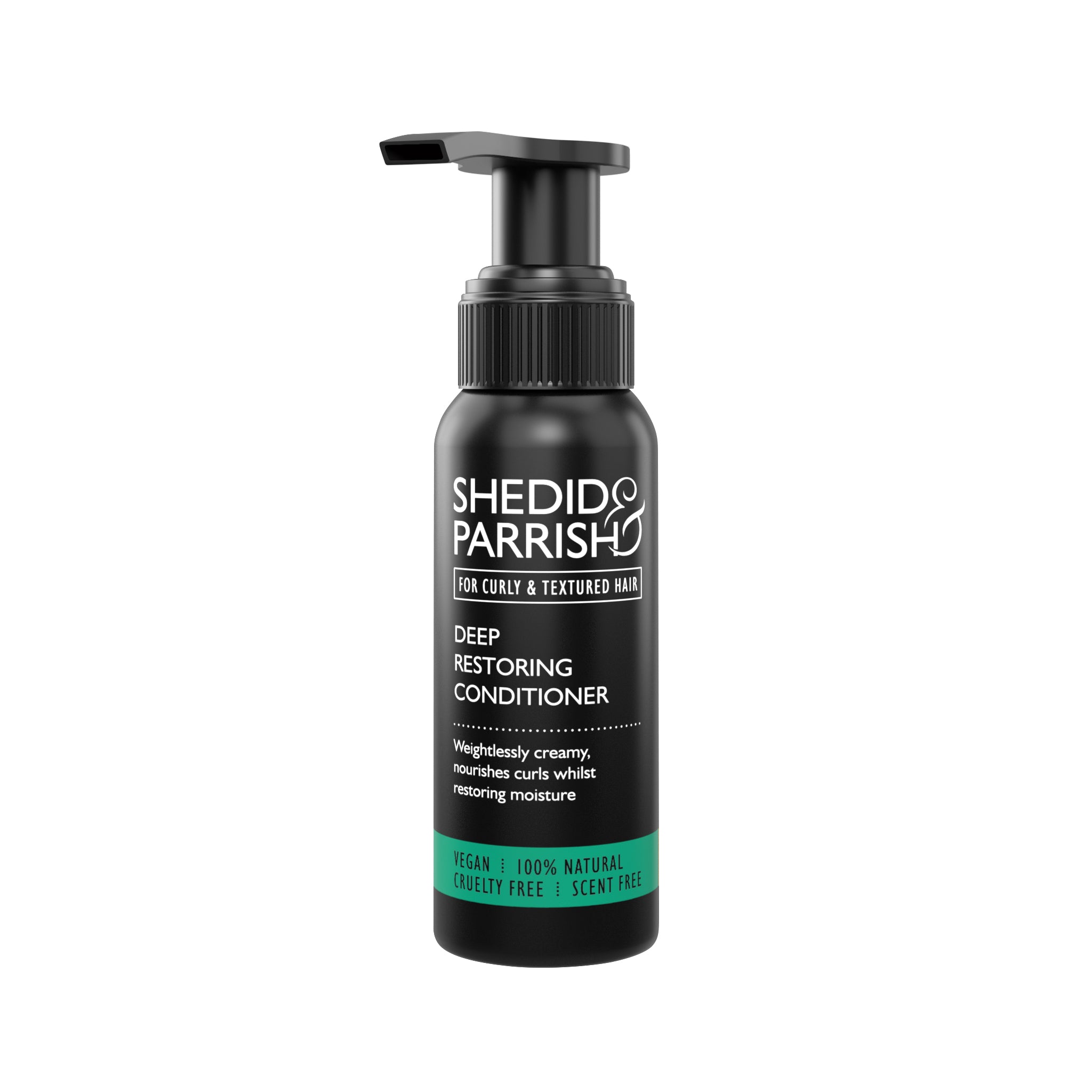 Deep Restoring Conditioner
---
Winner of 'Best Shampoo & Conditioner' at the Natural Health Beauty Awards 2021.
Our Deep Restoring Conditioner has been specially created to strengthen curl & textured hair and improve elasticity whilst adding moisture and manageability. It is naturally creamy and easy to apply, gliding easily throughout the scalp and hair, to melt away knots and tangles in minutes. Rich in shea butter, castor seed oil, and olive oil all work together to soften the hair and aid in reducing frizz.
Your hair feels smooth, nourished, and ready for styling with the Shedid & Parrish styling range
Aqua, Butyrospermum Parkii (Shea) Butter, Coco-Caprylate, Cetyl Alcohol, Riccinus Communis (Castor) Seed Oil, Glycerin, Cetearyl Alcohol, Behentrimonium Chloride, Olea Europea (Olive) Oil, Phenoxyethanol, Caprylyl Glycol, Stearalkonium Chloride, Wheat Amino Acids, Soy Amino Acids, Arginine HCl, Serine, Threonine, PEG-20 Stearate, Benzyl Alcohol, Potassium Sorbate, Sodium Benzoate
Following Shedid & Parrish Shampoo, section the hair into small handfuls.

Apply 4 pumps of the Deep Restoring Conditioner to the section of hair. Run it through again and again with your fingers as you apply it deeper. It has less slip but as a Salon product is designed for long term benefit. Follow this application to each hair section.

Once each section has been conditioned, the knots should start to melt away, apply a brush from the bottom if needed.

Once knot free, plait the hair in sections and leave for up to 2 hours.

Rinse out.

Apply liberally to mid-lengths and ends. For optimum results, leave on hair for 10 minutes and then rinse well.

CAUTION: For external use only. Avoid contact with eyes. In case of contact with eyes, rinse immediately with plenty of water and seek medical advice. If irritation or rash appears discontinue use. Test on small area of skin before full application. Store in a cool, dry place.
Click here to read our full shipping information for UK and international deliveries.
 30 Day Guarantee

Your satisfaction is of great value to us, so we offer a 30 day guarantee returns policy on all products. If you are not completely satisfied with your goods, simply email us at info@shedidandparrish.co.uk to initiate the return process.

Guarantee valid 30 days from purchase, may only be used once per product and once per order. 

This guarantee is valid for consumers purchasing on www.shedidandparrish.co.uk and is not valid for business purchasers.

The costs associated with the return are the responsibility of the customer. We will not be able to refund postage fees. You can ship with the carrier of your choice and we'd advise keeping the tracking or proof of postage until we receive the items.

 

Defects, Incomplete Orders or Incorrect Delivery
If there is something wrong with the order you have received, please email at info@shedidandparrish.co.uk with your order details, a description of the issue and a photograph of your delivery.

If you are returning goods owing to defects, incomplete orders or incorrect delivery, we will refund you both the price you paid for the goods (inclusive of the initial delivery charge) and the recorded delivery costs for the return package. Please obtain a receipt from your Post Office to enable us to process the refund for your return postage costs.

 

 

 
Deep Restoring Conditioner
Sale price

$39.00
Regular price
Choose options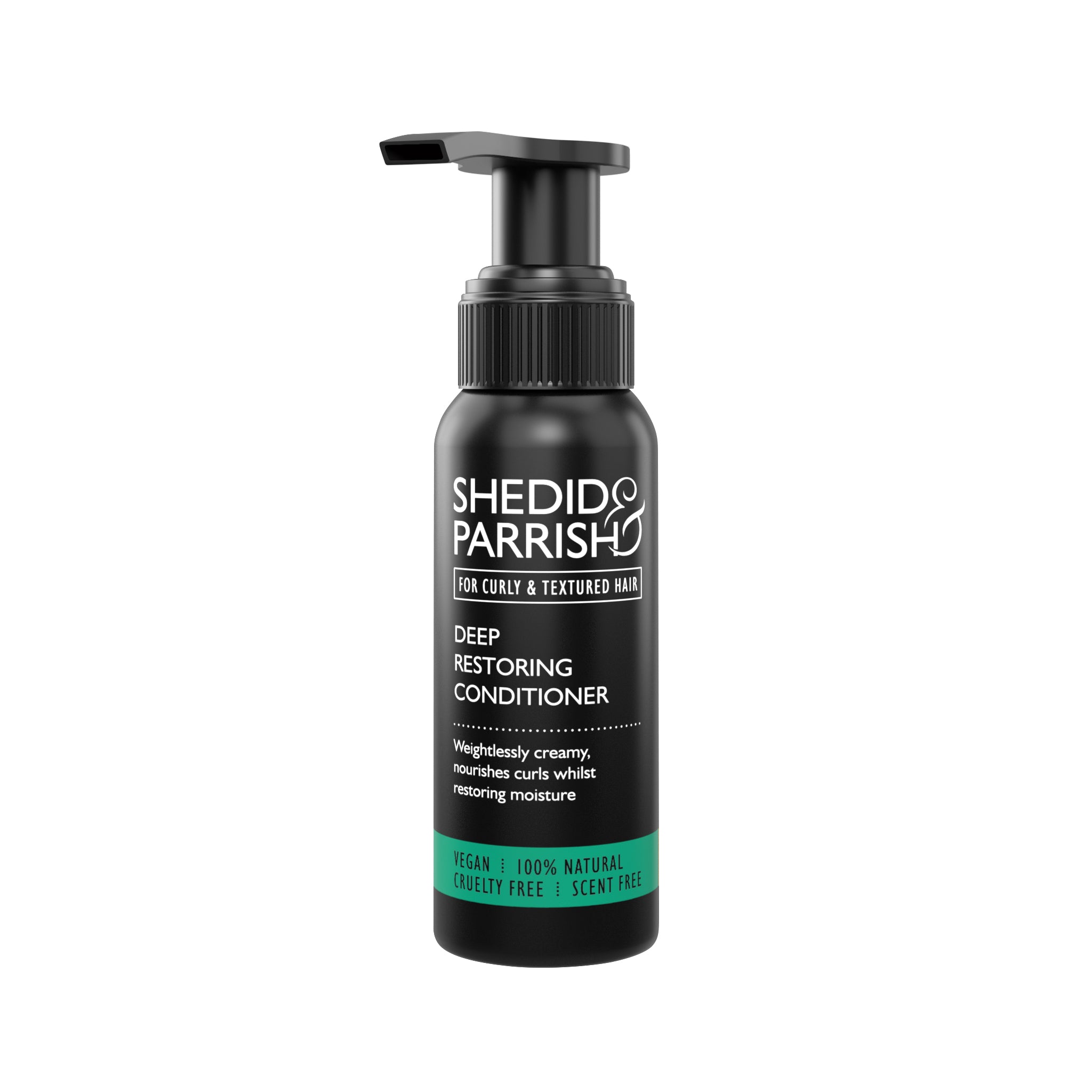 Soft bouncy curls from Deep Restoring Conditioner est
I've been using the Curl Styler from this brand for a couple of months now.It both feeds and defines my curls.I tried the Deep Restoring Conditioner after a swim, and was worried that because I was applying it without being able to leave it in for more than a few minutes while I showered at the pool, the result wouldn't be as good as using it as a mask and leaving it in for a morning/afternoon as I usually would.I was very surprised at how quickly it got the job done. It did have a lot of slip as I applied it, which is always a good sign, and my hair softened as soon as it went on. When I rinsed after a few minutes, I could tell that it had done a great job, as my curls were elongated, and felt really soft and healthy, like it would if it had been on for a while/used a mask treatment. Another very classy product from Shedid and Parrish.
Favourite curly brand
A super nourishing conditioner. I don't use it on every wash day but will use it instead of the silky leave in conditioner if my hair is feeling a bit dry. If I have the time I will leave it in as a mask for a few hours. A treat for thirsty, dry hair!
Great products
The serum is amazing, gives definition & hold.
Like a drink for thirsty hair
My wavy hair loves this stuff - I comb it through wet hair after washing, and use a tiny dab in between washes with a little water to refresh my waves. My hair had been getting quite frizzy and sad looking, but now looks healthier than it has done in years. I use it with the serum to add extra shine.
Super Product
So moisturing but giving me a shot of protein which my hair badly needs. Thank you!