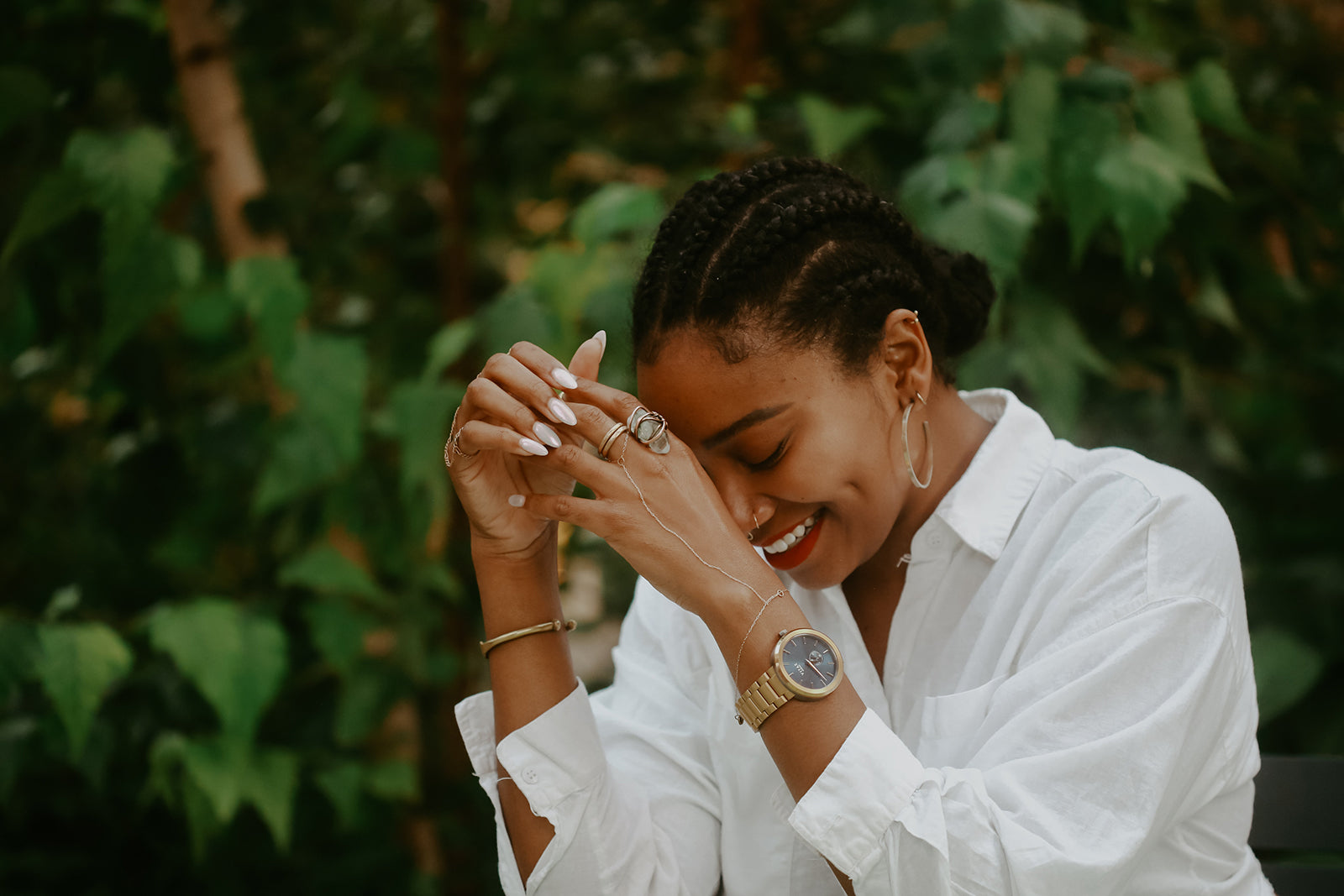 Which products are best suited to twistouts, corn rows, passion twists & protect styles?
We know there's a Shedid & Parrish product for every curly (take a look at last month's blog to find your own perfect trio) but how about for when you're feeling a protective style over letting it all hang loose?
We understand there's times when minimising manipulation and tucking away delicate ends is the best way to give your coils a well-earned rest. It might be that you want to give your hair a break from troublesome weather conditions, or away from water when you're on holiday. Or perhaps you just want to try out something new. Either way, Shedid & Parrish can help you get the most out of your protective style so your hair stays naturally healthy before, during and after you rock your look. Read on to find your style.
Braids
When it comes to protective styles, braids are the ultimate no fuss do. But whether you're thinking of going for box or knotless braids, you'll want to make sure you have the right products on hand to keep your hair moisturized and your scalp fresh.
Before braiding, use our award-winning Deep Cleansing Shampoo and Deep Restoring Conditioner to cleanse the hair. Then apply a generous amount of our Silky Leave in Condition to wet hair before drying. This will help smooth out your coils so they're ready for braiding and not too tight to the scalp.
Of course, one of the perks of wearing braids is fewer wash days. But keeping your scalp and roots clean are still absolute musts. To do this, mix our deep cleansing shampoo with warm water in a spray bottle and mist your scalp generously. Lather gently until your scalp is fully saturated before rinsing thoroughly making sure your scalp and braids are both completely clean of shampoo. Then leave your braids to dry fully before attempting anything like a bun or ponytail.
Between washes, you can mix our Silky Leave in Conditioner with water and mist your roots and the length of your braids to get that on fleek sheen.
Cornrows 
Much like braids, our Silky Leave in Conditioner is your bestie when it comes to keeping your hair healthy, moisturised and detangled ready for styling cornrows. You can also follow the same steps above to wash your cornrows at least once a week.
When it comes to moisturising in between washes, mist the braids with leave in conditioner and message some of our moisture rich Afro Butter between your rows to prevent itchiness and dry skin.
Our afro butter also works wonders when it's time to take your cornrows out. Take your time to generously moisturise your hair – leaving it to absorb in for a few minutes before slowly starting to undo the hair. All that extra moisture will give your hair extra elasticity and minimise breakage.
Natural Passion Twists / Mini Twists
Since debuting on Instagram in January 2018, passion twists have become the go-to style for a carefree, boho look. As their creator, Miami-based hairstylist Kailyn Rogers, @xolovekailyn, says: "I felt that this style would align with women who wanted to express their free spirit through their hair." So, whether you've been rocking this on-trend style for a while or are looking to give passion twists a go now summer is just round the corner, S&P products are on hand to keep them looking their best.
Most tutorials online will show you how to install passion twists with extensions, but you can still get the look with your own beautiful, natural hair by following these steps. First, prep your hair using our award-winning Deep Cleansing Shampoo and Deep Restoring Conditioner.
Next, section out your coils and work in a sparing amount of Afro Butter with your fingertips. The gorgeous shea butter will keep your hair soft, smooth and easy to work with without any greasiness. Then start your twists by plaiting the hair two or three times at the root then twisting down to the bottom. Finish off by doing another couple of plaits at the end and applying a little of our curl control serum for a final twist and definition.
Natural passion twists, or mini twists, can last up to a month if you follow a simply maintenance routine. Keep your roots moisturized by massaging our silky leave in conditioner into your scalp regularly. And like braids, use some shampoo in a spray bottle to combat build up remembering to be careful around the base of your twists. Then at night, be sure to invest in a high-quality silk bonnet or pillowcase to minimize frizz and protect the twists themselves.
So, there you have it, the secret to making sure your protective style keeps on popping is gentle cleaning and regular moisturising – both of which Shedid & Parrish products have got down to a tee!